Achieve Smoother Skin and Long-Lasting Results with Laser Hair Removal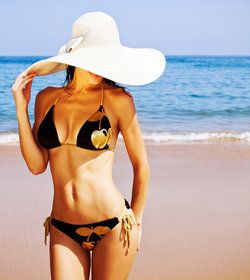 Many men and women are unhappy with the appearance of unwanted hair. Laser hair removal, performed in Dr. Roger J. Oldham's Bethesda office, is a simple and effective way to attain the smooth skin you desire. Lasers are among the newest and most advanced methods to permanently reduce unwanted hair on the face and body. This popular procedure is convenient, involves minimal discomfort, and offers long-lasting freedom from temporary hair removal methods like shaving, plucking, waxing, and chemical creams. Dr. Oldham knows how important it is to feel comfortable and confident about how you look. To learn more about laser hair removal, schedule a consultation today.
About Laser Hair Removal
Laser hair removal treatment uses a hand-held laser device to deliver pulses of light to hair follicles. Darkly colored pigment in the follicles absorbs laser energy, so they are damaged to a degree that naturally stops the growth of hair. Because only darker pigment is targeted, the skin is not heated and remains unaffected. For this reason, lasers produce the best results for patients with dark hair and light skin, although advances in laser technology are expanding the candidacy pool to include darker skin tones. Since hair growth is cyclical and only hairs in the growth stage are affected, laser hair removal generally requires three to five sessions to achieve the desired results.
How It Works
To maximize the results of your laser hair removal, we recommend treatment sessions be spaced one to two months apart. The length of your laser hair removal session will depend on the size of the treatment area, but your appointment should typically take no longer than 15 minutes. Laser treatment can be used for hair removal on the face or body.
Common treatment areas for the face include:
Upper lip
Chin
Eyebrows (above, below, and between)
Common treatment areas for the body include:
Chest
Back
Legs
Arms
Underarms
Pubic area
Before beginning the procedure, our technician will trim your hair to a few millimeters above the skin. You will both wear eye protection to filter out harmful light, and a cooling device or cold gel may be applied to the skin to minimize any discomfort. The technician will begin by testing the laser on the target area and adjust its power and pulse frequency to optimize treatment efficacy and comfort.
Treatment Benefits
Compared to electrolysis, which uses a fine needle to deliver an electric current to each individual hair follicle, laser therapy allows for faster treatment of a larger area. In addition, there is no down time associated with laser hair removal. Although you might experience some very minor swelling and redness, you can immediately return to normal activities and most patients report little discomfort during treatment. Any discomfort, which has been compared to mild sunburn and usually dissipates within 24 hours, can easily be controlled with ice packs, anti-inflammatory creams, or aloe lotions or gels.
The results of your laser hair removal will become evident after multiple sessions, when the majority of hairs in the treatment area have stopped growing. Treatment typically results in an 80 to 90 percent reduction in hair growth. Besides freeing you from time-consuming, tedious hair removal methods like shaving and tweezing, choosing to undergo laser hair removal means you will no longer have to spend money on costly razors, waxing, or depilatories.
Choosing a Provider
For the safest and best results, laser hair removal should only be performed by an experienced practitioner at a qualified facility. Dr. Oldham has been offering effective skin enhancement treatments for more than 15 years, including our popular chemical peels, microdermabrasion, and laser treatments to combat various aesthetic concerns.
Schedule a Consultation
Dr. Oldham and his staff are committed to technical excellence and a special sensitivity to each patient's needs and expectations. Contact our office to schedule your consultation and learn more about what laser hair removal can do for you.