Bethesda Breast Implant Profile Types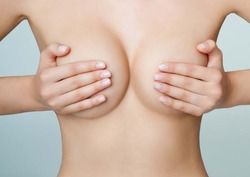 There are many women who desire a fuller and shapelier bust line. Thanks to the modern advantages of plastic surgery, breast augmentation makes that ideal body a reality for a great many women each year. Still, there are some women who would like to enhance the figure but are hesitant that breast implants will give them an unnatural appearance that does not suit their body. This is a false perception. Thanks to the many ways in which breast augmentation can be customized, plastic surgeon Roger J. Oldham is able to give each of his patients a naturally beautiful aesthetic that is uniquely customized to each patient's individual needs, desires, and body type. Aside from the more well-known options of implant fillers and sizes, Dr. Oldham helps his Bethesda patients choose between breast implant profiles, an important aspect of breast augmentation surgery.
Types of Breast Implant Profiles
A breast implant can be customized in many different ways. Patients have the option of choosing between different solutions for their breast implants, different sizes, textures, and profiles. Among these choices, breast implant profiles are not as familiar to most patients. The breast implant profile affects how the weight of the breast implant is distributed and how much the implant projects. The following are examples of different types of breast implant profiles that are available to patients:
Low profile: A low profile breast implant has the widest base and, therefore, the smallest amount of projection.
Moderate profile: A breast implant with a moderate profile will have a slightly narrower base and will, therefore, project slightly more than a low profile breast implant.
Moderate plus profile: The moderate plus profile is a step between a moderate profile implant and a high profile implant.
High profile implant: A high profile implant has a significant projection because of its narrow base.
Extra full profile: A breast implant with an extra full profile has a very narrow base and projects even further than a high profile implant.
Choosing a Breast Implant Profile
Based on their appearance, many patients immediately assume that a high profile implant would be the best option for making the breasts appear larger and fuller. However, good projection can be achieved with any profile of breast implant as long as the implant size and profile accommodate the patient's body type. It is much more important to choose a breast implant profile based on the natural shape and size of the patient's breast base. For example, a patient with a wide breast base would be best suited to a low or moderate profile implant, just as a patient with a narrow breast base would be better suited to a high profile breast implant. For these reasons, when it comes to choosing a breast implant profile, it is best to trust the experience and expertise of Dr. Oldham.
Schedule a Consultation
Every patient deserves to have the body she desires. If you have considered the benefits of breast augmentation and would like to learn more about the procedure, schedule a consultation with Dr. Roger J. Oldham at your earliest convenience. Dr. Oldham is happy to listen to your aesthetic goals and recommend the best techniques for making those goals a reality.