Bethesda Arm Lift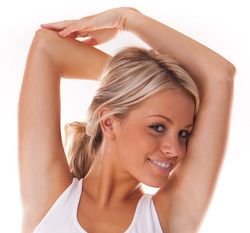 Sculpted arms are a sign of fitness and good health. Unfortunately, changes in weight, age, and even genetics can all contribute to drooping, sagging upper arms, also commonly known as bat wings. While various forms of exercise can help to strengthen and improve the underlying muscle tone, it does not necessarily eliminate the underlying weakened tissues, localized fat deposits, and the excess skin that has already lost its elasticity.
This is where a plastic surgery procedure known as brachioplasty can help Bethesda arm lift patients reshape the portion of their upper arm that runs from the elbow to the underarm region. Brachioplasty, or an arm lift, provides a long-lasting reduction of excess skin and fat, resulting in those toned and proportional arms you've always wanted.
Candidates
A wide variety of patients are considered good candidates for arm lift surgery. However, the vast majority are patients who have lost a massive amount of weight that has resulted in excess skin in their upper arms due to their significant drop in weight. Older patients who have extra skin that is bothersome would also be considered good arm lift candidates. Patients should also be in generally good health with controlled medical conditions.
If you are a smoker, it is recommended that you stop smoking well in advance of your procedure since smoking can hinder your ability to heal. Certain medications that can increase the risk of bleeding such as Aspirin and anti-inflammatories should be discontinued prior to your surgery.
Suitable arm lift candidates should also have realistic expectations about what the procedure can achieve.
The Arm Lift Procedure
Anesthesia: The day of your procedure, medicine will be administered for your comfort via intravenous sedation or general anesthesia, depending on what your doctor feels is the best option for you.
Procedure: An incision will be made in the armpit and may extend from the underarm to just above the elbow. The length and pattern of the incision will depend on the amount of excess skin that needs to be removed. Any fat that needs to be reduced will be done with liposuction at the time of your arm lift. Then, the underlying supportive tissues will be reshaped and tightened, and the skin will be smoothed over your new arm shape.
Recovery: Your incision will be closed by sutures and will be removed after one to two weeks following your arm lift. Your doctor may require you to keep your arms wrapped and elevated above the heart for a few days. You will slowly be able to regain normal function of your arms and hands over the course of a couple of weeks. Although you will experience some swelling and bruising, the results of your new shapely and toned arm will be apparent almost immediately.
Learn More about Arm Lift Surgery
To learn how you can gain toned and youthful looking arms, please contact the office of Dr. Roger J. Oldham to book your consultation and be on your way to your most fabulous you!